HILL RUNNING CHAMPIONSHIPS 2018
Hill Running Championship Rules.
The best of 7 races from 10 to count, 4 points if you marshal or time keep for any event in the Championship, to maximum of 8 points. Anyone completing all 10 races will be presented with the most prestigious ADAC 10 out of 10 Hill Running Mug!
1st place will get 20 points, 2nd 17 points, 3rd place 16 points and so on.
The Age Grade Championship running alongside the open championship, this will be one competition for men and women. I will use the course record of each hill race as an idea of the comparison to come up with the percentage for the age grade, this will be a bit variable when compared to the road races as conditions can affect hill races. So you might for example get 80% AG one race but only say 65% AG at another despite running just as well, however everybody's AG will be relative at each race. Your age at the first race of the Championship will used to work your AG for the rest of the Championship even if you have a birthday during the Champs.
If you run any race that is in the FRA or SHR calendar between 18/03/18 and 10/11/18 then you will receive 4 extra points for each race to a maximum of 8 points in total, Club vests must be worn, also club vests must be worn at all none-ADAC events, (if you have no vest the Hill Manager can use his discretion on the awarding of points).
The ADAC Hill Running Championship also incorporates the events in the Dumfries and Galloway Area Hill Running Championship, so remember that you could win a class in that Championship even if you are not able to secure a 1st 2nd or 3rd place in the ADAC Champs'.
For those of you new to Hill races remember that there is a mandatory kit requirement for all SHR and FRA events these are:-
Waterproof Jacket with hood and taped seams.
Waterproof Trousers with taped seams.
Hat and gloves
Map and Compass.
If you are short of any kit talk to me or Nigel as we have spare equipment we can lend.
Finally, the most important thing, HAVE FUN everybody.
HILL RUNNING FIXTURES 2018
18th March Criffel Hill race
14th April Screel Hill race
9th June Durisdeer Hill Race
23rd June Eidons Hill Race
1st July Bampton
22nd July Hartfell Horse Shoe
31st July Stag to Hind Hill Race
1st Sep Devil's beef Tub
16th Sept Merrick hill race
10th Nov Tinto Hill race
SCORES
Stag to Hind Hill Race Report and Results.
In years past the hills which stretch to the north and east of Moffat all the way to Edinburgh and up to Glasgow made it ideally placed for sheep and the production of wool. Now it is the ideal gateway to them same hills for runners, walkers and cyclists. On Tuesday evening on the last day of July runners from 8 different running clubs meet in the town to test their speed and fitness in a short hill race, and importantly raise some money for another frequent visitor to the same hills Moffat Mountain Rescue.
The Stag to Hind Hill Race starts at outside the Stag Hotel at the north end of Moffat market place and the runners race to the top of Hind Hill just outside the town and back again, the race is a bit over 3 miles in length, and makes for a great starter race for those looking to try their hand at hill racing or a fast mid-week "speed session" for the hardened hill racer. The 1st place man and woman receive an impressive trophy in the form of a Red deer Stag for the male and a Red deer Hind for the female. There is no entry fee for the race but donations are taken for Moffat Mountain Rescue, afterwards there is a buffy of sandwiches and chips for all the participants in the Stag Hotel.
In contrast to the weeks of hot weather and blue skies we have seen on the day of the race dark black rain threatening skies and cooler weather awaited the runners, walkers and racers. While 20 racers took part a further 6 walked/ran the route none competitively, and 3 give up their time to assist with marshalling and time keeping duties. The clubs that were represented at the race were Annan and District Athletic Club, Jog Moffat, Dumfries Running Club, Dumfries Harries, Dumfries Triathlon Club, Muckle town sloggers, Moorfoot Runners, and the famous Edinburgh Hill running Club, Hunters Bog Trotters. The Event is part of ADAC Hill running Championship. The race saw some of Moffat's best young and old Hill runner returning to racing after injury, Young Michal Kerr was back after nearly a year out due to a knee injury and in the V50 class top local runner Rory Longmore after a few years not running due to a Achilles injury was back racing. Due to the generosity of the runners £110 was raised for Moffat Mountain Rescue. A number of people made big contributions towards funds for the after race refreshments and prizes, Nigel and Janet Priestley, Billy and Yvonne Kerr, John and Jean Robson, and Rory Longmore. (I hope I haven't forgot anybody.)
First back to the Stag Hotel in a time of 25:28 minutes was Andrew Cox of (Moorfoot Runners), 2nd Michael Kerr (unattached) 3rd and regular first V40 winner was Mark Whitelaw(ADAC), 4th and 1st V50 Rory Longmore (unattached), 1st Female in a great time of 30:31 was Rosie Allen (ADAC), 2nd female was Lesley Jefferies and 1st FV40, 1st FV50 was Janet Priestley. (see full results attached).
Thank you to Colin for access to his land so the race could go ahead, the Stag Hotel for putting on the refreshments, Sweepers John Robson Michelle Caruthers and Nigel Priestley, Marshalls, Louise Plummer, Yvonne Kerr, Photos Jean Robson and time keeping Jim Buchanan and Darran Foley.
| | | | | | |
| --- | --- | --- | --- | --- | --- |
| 1 | | Andrew | Moorfoot Runners | SM | 00:25:28 |
| 2 | Kerr | Michael | Unattached | SM | 0:27:25 |
| 3 | Whitelaw | Mark | Annan and District Athletic Club | V40 | 0:28:05 |
| 4 | Longmoor | Rory | Unattached | V50 | 0:28:49 |
| 5 | Jarzyna | Alex | Muckle Town Joggers | V40 | 0:28:54 |
| 6 | Irving | Roger | Annan and District Athletic Club | V50 | 0:30:06 |
| 7 | Allen | Rosie | Annan and District Athletic Club | FV40 | 0:30:31 |
| 8 | Malcolmson | Craig | Annan and District Athletic Club | V50 | 0:30:32 |
| 9 | Jeffries | Neil | Dumfries and Galloway Triathlon club | V50 | 0:30:54 |
| 10 | Munro | Nick | Annan and District Athletic Club | SM | 0:32:40 |
| 11 | Jeffries | Lesley | Dumfries Harriers | FV40 | 0:36:52 |
| 12 | Priestley | Janet | Annan and District Athletic Club | FV50 | 0:37:06 |
| 13 | Luebke | Emma | Dumfries Running Club | FS | 0:38:25 |
| 14 | Lucas | Amy | Dumfries Running Club | FS | 0:38:42 |
| 15 | Campbell | Ian | Hunters Bog Trotters | V50 | 00:38:51 |
| 16 | Kerr | Emma | Unattached | FS | 00:39:17 |
| 17 | Seddon | Artemis | Jog Moffat | FS | 00:39:17 |
| 18 | Creighton | Alan | Annan and District Athletic Club | V60 | 00:40:32 |
| 19 | Kerr | Billy | Unattached | V50 | 0:40:32 |
| 20 | Davies | Carolyn | Dumfries Harriers | FV40 | 00:43:15 |
| 21 | Robson | John | Unattached | Sweeper | NR |
| 22 | Priestley | Nigel | Unattached | Sweeper | NR |
| 23 | Caruthers | Michelle | Unattached | Sweeper | NR |
Stag To Hind Hill Race 31st July, 7pm start.
The Stag to Hind Hill Race is a short 3ish miles Hill race, it starts outside the Stag Hotel in the Moffat market place, and is to the top of Hind HIll then back to the Stag. Free sandwiches and chips are then served in the pub afterwards, there is no entry fee but donations to Moffat Mountain Rescue are accepted. Registration opens at 18:15pm and closes at 18:45pm. The first women and the first man get a impressive trophy to keep for one year of a Red Hind and Red Stag respectively.

It is a Scottish Hill Runners permitted event. Please see there safety guidance:- http://www.scottishhillrunners.uk/Safety.aspx
Hartfell Horseshoe Hill Race 22/07/18.
This Sunday it was the Hartfell Hoseshoe Hill Race, the race is a circular route of just over 10 miles, it passes some of Moffat hills best known land marks. It starts at Annan Water Hall and heads up to one of the Moffat Hills Corberts, Hartfell, as it does it climbs above the spa cave or Merlin's cave in the hills, once past Hartfell it heads to the start of the Annandale way before a short climb to the top of the Devils Beef tub. From here the runners have fast mostly down hill run back to the hall.
The race Organiser is now Kevin Plummer Hill Running Manager for Annan and District Athletic Club, taking over the running of the race from the founder Jim Buchannan, although Jim still helps enormously.
All entry money from todays race was donated to Moffat Mountain Rescue, in total due to the generosity of the runners a £100 was raised.
The race conditions for Sunday were testing on the tops with very poor visibility above 400 meters it made navigation difficult with several runners going off the race route, but still with good mountain skills they found there back to the race route and all completed the race.
Use his experience in previous races the winner was Graham McLellan running for ADAC, first female and braking her own course record was Rosie Allen also ADAC. A special mention for Adam Anderson first V50 winner, who's running shoe fell apart during the race, he soldiered on running with one bare foot until he got to the final marshal on the A701 who luckily had a pair of had running shoes in his car that Adam could squeeze into. Congratulations to Ruth Griffith running in her first hill race, this one is a tough one but the conditions on the day made it more so, so well done to her.
The Race organisers would like to thank the land owner who without their cooperation the race could not go ahead, all the marshals, time keepers and helps on the day. All runners were treated to a fine spread of food in the hall post the race. Full results below. Please credit Jean Robson and Yvonne Kerr for taking the photos today while marshalling.
1st Male Graham McLellan ADAC 1st Female Rosie Allen ADAC
2nd Male Ian Patterson Whiskey Chasers 2nd Female Janet Priestley ADAC
3rd Male Mark Whitelaw ADAC
1st MV40 Paul Heneghan Rossendale Harriers 1st FV40 Ruth Griffith ADAC
1st MV50 Adam Anderson. ADAC 1st FV50 Louise Hopper ADAC
1st Alan Creighton ADAC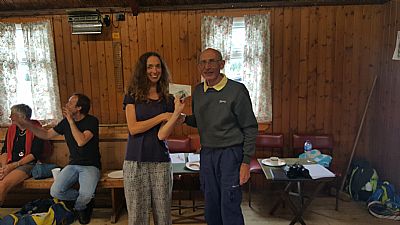 Jim Buchannan presenting the cheque of £100 to Moffat Mountain Recuse team member Rosie Allen.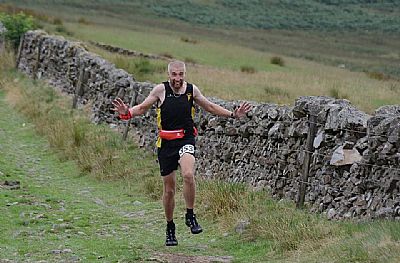 Race Winner Graham MacLellan.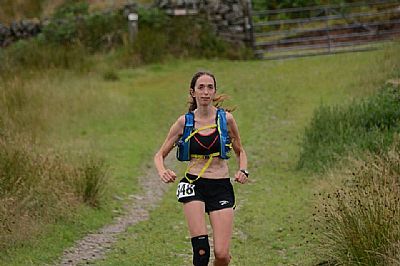 1st Female Rosie Allen.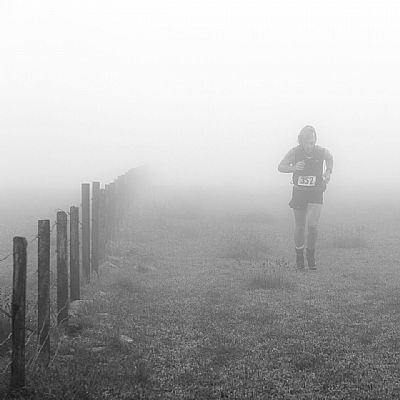 Craig Malcolmson battling his way through the mist at the top of Hartfell Hill.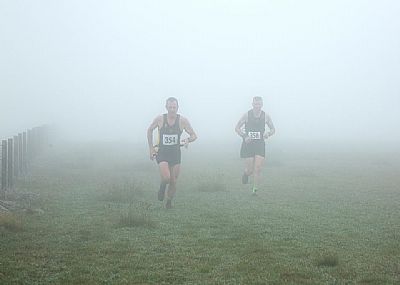 Vet 50 winner Adam Anderson and 3rd Overall Mark Whitelaw racing through the mist.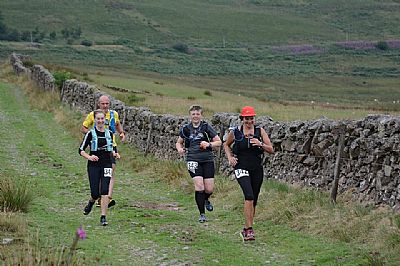 Louise Hopper, Janet Priestley, Ruth Griffith, and Alan Creighton having fun racing to the finish.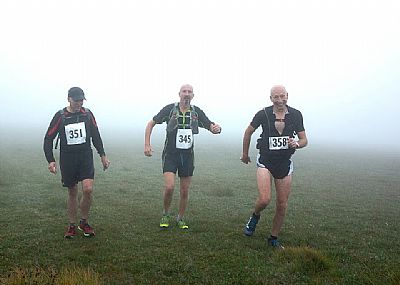 Brian Mark and Kevin on the top of Hartfell Hill.
Full race results and timings.
| | | | | | |
| --- | --- | --- | --- | --- | --- |
| FinishPosition | Surname | Firstname | Club | RunnerCategory | FinishTime |
| 1 | | Graham | Annan & District Athletic Club | MV40 | 01:40:53 |
| 2 | Patterson | Ian | Whiskey Chasers | MV40 | 01:44:54 |
| 3 | Whitelaw | Mark | Annan & District Athletic Club | MV40 | 01:52:27 |
| 4 | Anderson | Adam | Annan & District Athletic Club | MV40 | 01:53:03 |
| 5 | Irving | Roger | Annan & District Athletic Club | MV50 | 01:54:58 |
| 6 | Neilson | Norman | Dumfries Running Club | MV50 | 01:55:20 |
| 7 | Allan | Rosie | Annan & District Athletic Club | FV40 | 01:56:17 |
| 8 | Malcolmson | Craig | Annan & District Athletic Club | MV50 | 02:05:33 |
| 9 | Plummer | Kevin | Annan & District Athletic Club | MV50 | 02:33:53 |
| 10 | Dickie | Adam | Dumfries Running Club | MS | 02:34:54 |
| 11 | Heneghan | Paul | Rossendale Harriers | MV40 | 02:28:21 |
| 12 | Cuthbertson | Mark | Carnsmore Hill Runners | MV40 | 02:49:54 |
| 13 | Addis | Mark | Annan & District Athletic Club | MV40 | 03:03:53 |
| 13 | Brian | Harper | Tevotdale Harries | MV40 | 03:03:53 |
| 15 | Griffith | Ruth | Annan & District Athletic Club | FV40 | 03:11:26 |
| 15 | Hopper | Louise | Annan & District Athletic Club | FV50 | 03:11:26 |
| 15 | Creighton | Alan | Annan & District Athletic Club | MV60 | 03:11:26 |
| 15 | Priestley | Janet | Annan & District Athletic Club | FV50 | 03:11:26 |